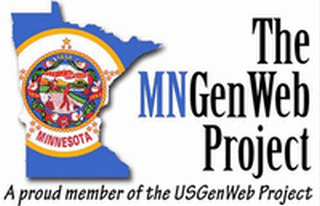 Minnesota Genealogy
and the MNGenWeb Project
Thank you for visiting MNGenWeb!
In July 1996, the page for MinnesotaGenWeb was started. We are proud to be a part of the USGenWeb project, which is an effort to organize genealogical materials on the Internet. Our goal is to provide a web site specializing in genealogy in Minnesota with an emphasis on the county level. Our project's success is only possible through the support of volunteers.
Volunteers are needed in all phases of this project from the county through the national level. Would you like to help? Here's how.
Host a county page. You don't have to live in the county you are hosting! If the county in which you are interested does not have a host and you wish to participate, please read the FAQ first, then contact the MNGenWeb State Coordinator. If there already is a volunteer for that county, write to that person and offer to be an assistant.
Submit records to the archives. Transcribe public records - census, plats, cemeteries, land deeds, births and deaths, marriages, voters' lists, post office locations - any public record that will help genealogists find their ancestors, even if the record is for a small area or short time period. Everything helps. Contact the county or state coordinator if you have data for the archives.
Offer to do lookups. Do you have an old plat book, a church or town history, or anything similar on the history of an area and its people? Can you look up records at your county courthouse or historical society? Contact the coordinator of the county for which you have reference material and offer to do lookups for other researchers. Please see the USGenWeb Project's Official Copyright Policy regarding copyrights and lookups.
Post queries. Someone may be looking for the information you have as well as having the information you need.
Submit your surnames. This is another way for people to find you and share family records. Visit the county web sites where your ancestors lived and submit your surnames to the county coordinator.
Read the USGenWeb Help Wanted ads for other ways you can volunteer.

This page was last updated
You are the visitor to this page since June 8, 1997.