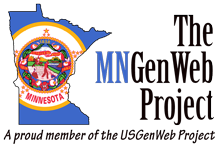 Minnesota County Selection List
Watch for updated county pages! Counties listed with an adoption graphic could use your help,
if you are interested, please take a look at the how to adopt a county page
and contact Shirley Cullum to volunteer.
Please note, all counties hosted on Rootsweb that were available on 12/22/17 are now off line. We do not have a timetable when Rootsweb will restore any individual county site. Their recent update on 1/9/18 indicated it would be some months until all sites are available again for updating or correcting mistakes noted by visitors.
Thus we have pointed this table to the last archived copy of the website for those counties on http://web.archive.org and noted those counties with a light yellow background.
| Established Site | Available for Adoption | Hosted on Rootsweb |
| --- | --- | --- |
(See Extinct MN Counties)
County
Date Formed
Parent County
County Seat
Contact
Aitkin
1857
Cass, Itasca
Aitkin
Anoka
1857
Ramsey
Anoka
MaryAlice Schwanke
Becker
1858
Indian Lands
Detroit Lakes
Karen De Groote
Beltrami
1866
Unorganized Territory.
Bemidji
Benton
1849
Original County
Foley
Bill Haloupek
Big Stone
1862
Pierce
Ortonville
Blue Earth
1853
Unorganized Territory
Mankato
Martha Crosley Graham
Brown
1855
Nicollett, Blue Earth
New Ulm
Ray Kleinow
Carlton
1857
Pine, St. Louis
Carlton
Martha Crosley Graham
Carver
1855
Hennepin
Chaska
Kathy Hines
Cass
5 Apr 2018
1851
Original County
Walker
Thomas Green
Chippewa
1862
Pierce
Montevideo
Ann McRoden Mensch
Chisago
1851
Washington
Center City
Tim Stowell
Clay
1862
Formerly Breckenridge
Moorhead
Mike "Dino" Peterson
Clearwater
1902
Beltrami
Bagley
Cook
1874
Lake
Grand Marais
Linda Simpson
Cottonwood
1857
Brown
Windom
Ray Kleinow
Crow Wing
1857
Ramsey, Cass
Brainerd
John Van Essen
Dakota
1849
Original county
Hastings
Martha Crosley Graham
Dodge

1855
Olmsted
Mantorville
Shirley Cullum
Douglas
1858
Todd
Alexandria
Jan Sedore
Faribault
1855
Blue Earth
Blue Earth
Kathy Hines
Fillmore
1853
Wabasha
Preston
Freeborn
1855
Wabasha
Albert Lea
Kathy Hines
Goodhue
1853
Wabasha
Red Wing
Grant
1868
Stearns
Elbow Lake
Hennepin
1852
Dakota
Minneapolis
Martha Crosley Graham
Houston
1854
Fillmore
Caledonia
Hubbard
1883
Cass
Park Rapids
MaryAlice Schwanke
Isanti
1857
Anoka
Cambridge
MaryAlice Schwanke
Itasca
1849
Original County
Grand Rapids
MaryAlice Schwanke
Jackson
1857
Unorg. Terr
Jackson
Randy Wendel
Kanabec
1858
Pine
Mora
Kandiyohi
1858
Meeker
Willmar
Kittson
1878
Unorg. Terr. - formerly Pembina
Hallock
Colleen Pustola
Koochiching
1906
Itasca
International Falls
Linda Simpson
Lac Qui Parle
1871
Brown, Redwood
Madison
Tim Stowell
Lake
1856
Formerly Doty
Two Harbors
Linda Simpson
Lake of the Woods
1922
Beltrami
Baudette
Le Sueur
1853
Unorg. Terr.
Le Center
Lincoln
1873
Lyon
Ivanhoe
Lyon
1868
Redwood
Marshall
McLeod
1856
Carver
Glencoe
Shirley Cullum
Mahnomen
1906
Becker, Norman
Mahnomen
Marshall
1879
Kittson
Warren
W. Saewyc
Martin
1857
Faribault, Brown
Fairmont
Meeker
1856
Wright, Stearns
Litchfield
Joy Fisher
Mille Lacs
1857
Kanabec
Milaca
Morrison
1856
Benton, Stearns
Little Falls
Ann McRoden Mensch
Mower
1855
Fillmore, Freeborn
Austin
Kermit Kittleson
Murray
1857
Lyon
Slayton
Char Larson
Nicollet
1853
Unorg. territory
St. Peter
Laverne Tornow
Nobles
1857
Jackson
Worthington
Bryant Walker
Norman
1881
Polk
Ada
Colleen Goltz
Olmsted
1855
Unorg. Territory
Rochester
Shirley Cullum
Otter Tail
1858
Pembina, Cass
Fergus Falls
Jan Sedore
Pennington
1910
Red Lake
Thief River Falls
Lynn Brandvold
Pine
1856
Unorg. Lands
Pine City
Pipestone
1857
Murray
Pipestone
Larry M. Weatherly
Polk
1858
Indian Lands
Crookston
Jo Paulson
Pope
1862
Pierce
Glenwood
Keith Gulsvig
Ramsey
1849
Original county
St. Paul
Tim Stowell
Red Lake
1896
Polk
Red Lake Falls
Lynn Brandvold
Redwood
1862
Brown
Redwood Falls
Renville
1855
Unorg. Territory
Olivia
Rice
1853
Original County
Faribault
Rock
1857
Nobles as Unorg. Co. Brown
Luverne
Lin Ziemann
Roseau
1894
Kittson
Roseau
Colleen Pustola
St. Louis
1855
Doty (now Lake)
Duluth
Martha Crosley Graham
Scott
1853
Dakota
Shakopee
Karen De Groote
Sherburne
1856
Benton
Elk River
Ann Hammer
Sibley
1853
Unorg. Territory
Gaylord
Stearns
1855
Indian Lands
St. Cloud
Karen De Groote
Steele
1855
Unorg. Terr., Dodge
Owatonna
Kathy Hines
Stevens
1862
Pierce, Big Stone
Morris
Gail Kilgore
Swift
1870
Chippewa, Unorg. Lands
Benson
Todd
1855
Stearns
Long Prairie
Karen De Groote
Traverse
1862
Toombs
Wheaton
Tim Stowell
Wabasha
1849
Original county
Wabasha
Wadena
1858
Cass, Todd
Wadena
Jan Sedore
Waseca
1857
Steele
Waseca
Kathy Hines
Washington
1849
Original county
Stillwater
Gayle Triller
Watonwan
1860
Brown
St. James
Ray Kleinow
Wilkin
1868
Cass, Toombs, Johnson
Breckenridge
Tim Stowell
Winona
4 Apr 2018
1854
Unorg. Territory
Winona
Martha Loven
Wright
4 Apr 2018
1855
Hennepin
Buffalo
Betty Dircks
Yellow Medicine
1871
Redwood
Granite Falls
Tim Stowell
---
Return to MNGenWeb
This page was last updated 1 May 2018